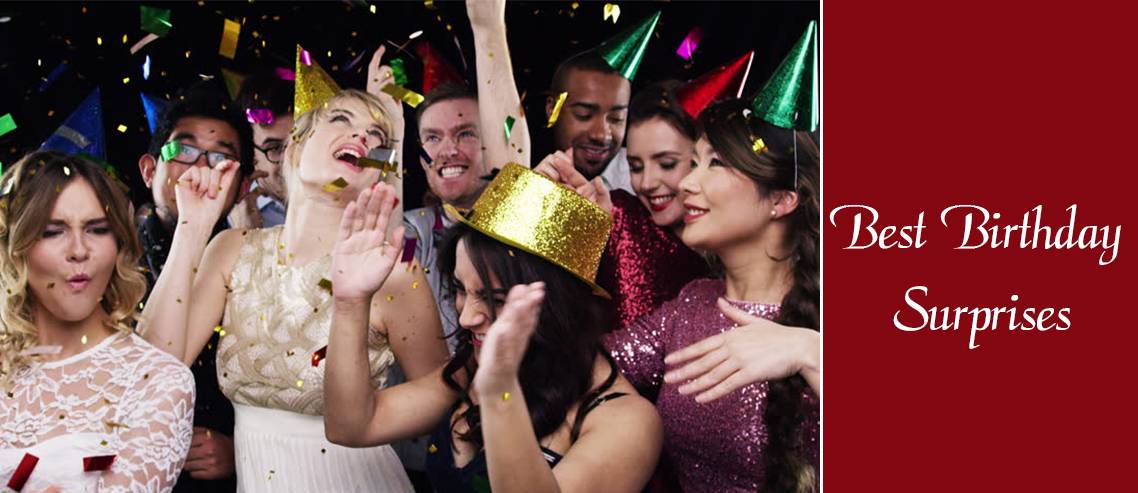 An epic birthday surprise happens when the recipient is in the state of utter amusement mixed with shock and delight to realise what the hell is going on around him/her. It is very often heard that life comes by only once, so why not celebrate your life to the fullest?? Especially when you have a birthday of one of your favorite peeps coming around the corner? A Birthday is truly one of the most celebratory occasion of life that gives each one of us to be thankful for the life that we are living and learn to enjoy it a little more. Fun and impressive best birthday surprises are generally planned by friends and family to make the recipient feel special and on top of the world on the day that marked their arrival into this world.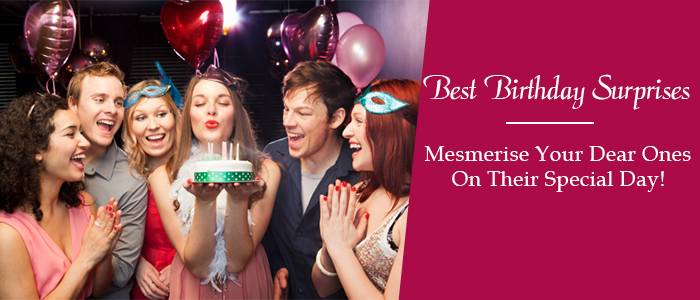 The unique birthday surprises that we bring to you today are simple and easy, which you can execute to bring about a lovely and smile on the faces of your dear ones. They will be touched and appreciative to see your efforts to make them happy on their special day. It will be a moment to remember for them when they experience your surprise birthday party ideas. Throwing a surprise party with the best birthday ideas can be a great deal of fun. As much as it can be fun, there are small contingent things that can come in your way. These small things could be tricky for your best birthday surprises to be executed to the very best.
So, if you are on the verge of hosting a surprise birthday party then you are just where you need to be. Our ideas on the best birthday surprises will blow the mind of the recipient and leave him/her utterly flabbergasted with joy. Before we jump into some of our unique surprise birthday party ideas, let us share with you some tricks and tips to get you plan the most unique birthday surprises.
Tips And Tricks For Birthday Celebration Ideas To Be Pulled Off With Ease~
Keep it unexpected to the core! -
The best birthday surprises are said to be the most unexpected ones. Keep the party a complete secret for the best effect on the recipient.
Guest List And Invitations -
Keep your guest list compact and stick to the most important people to help in maintaining secrecy of the birthday party ideas. Let all your guests surely arrive before the birthday boy/girl to have a lovely surprise effect.
Theme -
If you stick to a theme for the birthday celebration ideas, you can plan all your logistics accordingly. This will ensure that the recipient enjoys some of the best birthday surprises ever. You can choose the theme of your unique birthday surprises based on the interests, likes, and dislikes of the recipient to make him/her feel all the more special .
Venue -
Choose a venue, like say a restaurant, or a club, or any other place, that is the favorite of the recipient. It is always a smart option.
Food And Drinks -
Finger food that can be served easily is the best choice when it comes to having an in-house birthday party. For restaurant based venues, you can serve the favorite food and drinks that are thee guest of honour's favorites.
Best Birthday Surprises Birthday Party Ideas To Make The Recipient Feel Utterly Special!
Sneaky Party Flair -
These are surely one of the best birthday surprises that you can plan for your best friend. The spectacular arrangements of surprise birthday party ideas that you plan with this sneaky party flair is a great get-together idea in itself. The elements of these birthday celebration ideas include customized beverages, printed balloon and centerpiece ideas, personalized t-shirts for all the guests, printable cutouts of sarcastic and humorous birthday wishes and sayings, inside jokes, and lame photographs of the recipient. For these best birthday surprises to be power-packed and filled with punch, make sure that all the guests are sporting their flair at their best.
Best Birthday Surprises For Her -
Your Heart Like A Truly Royalty On Her Birthday. These Birthday Surprises For Her In Which You Treat All Of Her Wishes As Your Command And Fulfill Them Will Make Her Happy To A Whole New Level. Be It Breakfast In Bed, Binge-Watching Her Favorite Romantic Movies, Making Her Favorite Coffee, Or Just Anything Else; Dedicate An Entire Day To The Service Of The Queen Of Your Heart. Right From The Time She Wakes Up, Till She Goes Back To Bed, Plan The Day For Her According To Her Taste And Preference. Does It Seem Tough?? Not When You Love Her Just Enough!!
Birthday Surprise For Him - Learn His Hobby And Perform For Him -
Make your husband/boyfriend's hobby to be your own and show active interest in it. Learn it and become a pro at his hobby and give one of the most adorable birthday surprise for him. Be it painting, singing, dancing, cooking, or playing a music instrument, pick any of his hobby and start learning it. Ace in it and surprise him on his birthday by performing for him. Your performance will make him happy and surprised, so much so that he will be swept off his feet. Learning something new is always fun and interesting. Make this to be one of the best birthday surprises for him and give him a wonderful experience.
Limo Style Party - Live Life King Style -
Whether it is enjoying a sumptuous dinner with a group of friends, sipping a glass of champagne to raise a toast for your friend's birthday, or to enjoy your favorite music, do all of this in luxurious Limo style! Make even the most ordinary things prepped up with extraordinary style as you treat the birthday boy/girl with the best birthday surprises. In the wheels of this classy and exquisite drive, celebrate the birthday of your best buddy in complete style, treat him to the most luxurious and special birthday ideas.
Unplanned Road Trip -
This definite and unique idea of best birthday surprises is sure to be the happiest ride of the recipient's life. Gather your entire group of buddies in a car, drive to the birthday boy/girl's home, ask them to pack their stuff and join in for an impromptu road trip. Stop once you are on the outskirts of the city and enjoy a lovely cake cutting ceremony and begin the celebrations for your road trip. This journey that was planned with some of the best surprise birthday party ideas is something that he/she will remember all through their life.
Which of these best birthday surprises are you going to pick to surprise your dear ones? Make their day really special and extraordinary with these amazing and best birthday ideas.