Want to make Christmas 2018 really special for your best friend but you are running low on ideas? Make something memorable and unique for your best friends and present it to them as handmade Christmas gift ideas. These Christmas gift ideas for friends need not be complicated and time taking, they can be really quick and easy to make. After all, Christmas gifts mean much more when they are handmade. The personal touch in these Christmas craft gift ideas is what makes them unique.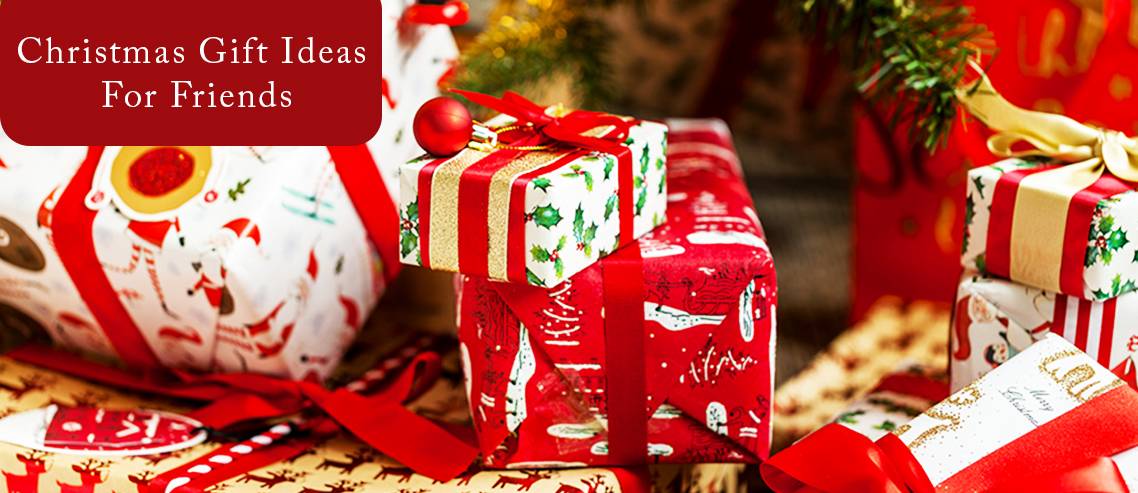 Your best friend surely means the world to you! Celebrating a happy occasion with your best buddies is something you always look forward to. And what better day could it be other than the merriest festival on earth, Christmas? We have rounded for you some of the easiest Christmas gift ideas for friends that you can actually make in just a few minutes. On receiving these gifts in the form of handmade Christmas gift ideas, your friends will surely fall in love with your creativity and thoughtfulness.
Christmas Gift Ideas For Friends - Incredibly Awesome Christmas Craft Gift Ideas!
Try making one of these awesome Christmas gift ideas for friends for this festive season and let them know that they really special to you. These cute and amazing Christmas craft gift ideas are something that you would love to keep for yourself as well.
Christmas Ideas For Her :
Rosemary And Grapefruit Scented Candles -
Brighten up your friends living space this year, present them these thoughtful and handmade Christmas gifts for girls. These stunning and bright homemade candles will surely be something that they will instantly love. All you need to do to make these Rosemary and Grapefruit scented candles is heat soy wax flakes on a low flame until they are completely melted. Remove the pan from heat. Place the wicks of the candle in the designated vessel to touch the bottom of it. Now add 20 drops each of rosemary and grapefruit essential oils and give it a good stir. Pour the wax into the vessel and allow it to cool to a solid state. Trim the excess wicks and there you go, your perfect Christmas ideas for her are ready to be packaged and presented beautifully.
Gingerbread Body Butter -
These unique and thoughtful Christmas gift ideas for friends that surely won't burn a hole in your pocket is something that your friends will relish! Give your girl gang the smoothest skin this winter season with homemade gingerbread body butter as Christmas gifts for girls. To make this delicious gingerbread body butter you need to mix ½ a cup of coconut oil and ½ a cup of shea butter in a small saucepan and heat on low flame until the mixture is melted. Let the mixture cool down to room temperature, put the mixture in a bowl and place it to cool in the refrigerator. After 15-20 min remove it from the fridge and add 1 tsp cinnamon powder, 2 tsp ground ginger, and 2 tsp vanilla extract. Beat the ingredients well until a smooth whip. Scoop the gingerbread butter into an airtight container and gift wrap it in a cute manner. Present it to your friend and make her super happy !
Flavored Bath Bombs In A Jar -
These fizzy and delightfully colored bath bombs in a jar with a very subtle tint and filled with flavors make one of the best Christmas gift ideas for friends. To make these bath bombs you will need to mix 2 tbsp of baking soda, 1 tbsp of citric acid, 1 tbsp of cornstarch, and 1 tbsp Epsom salts into a bowl and mix them together. In a separate small jar, you can shake well 1/4th tsp of canola oil, 1-2 drops of food coloring, and 1 tsp liquid (extract of the flavor of bath bombs, like concentrated green tea extract for green tea bombs, vanilla extract for the vanilla bomb, etc.). Now mix the wet ingredients with the dry ingredients and you will see a slight reaction. Keep whisking the ingredients together until the mixture is a little crumbly. Put the mixture into moulds and let them dry for at least 4-5 hrs. Place different colored bombs in a mason jar and cutely pack them as Christmas gifts for girls.
Christmas Gift Ideas For Him :
Keyring Fobs -
Present your guy friends with this charming accessory as Christmas gift ideas for friends and let them enjoy a vintage touch. You can make these keyring fobs with vintage tags like miniature brass animal tags, plastic toys, or wood printed letter blocks. Run a keyring loop directly through these vintage tags and bind them together to look like a cool keychain. These Christmas gifts for men will surely be something that they will put to good use and will appreciate.
Infused Vodkas -
Blend their vodka with their favorite fruit flavor and let them enjoy a twist in their drinks. These Christmas gift ideas for him will give a fruity punch to his favorite drink and heighten his celebration with his friends even more. Present these infused vodka bottles with tangy flavors like citrus vodka, cucumber tarragon, or chai vodka and let him bring in the new year with the best toast among his friends.
Reindeer Beer Crate -
This super cute idea of Reindeer Beers is simply apt to be presented as Christmas gift ideas for him to enjoy the winter chill. All you need to do to make this reindeer beer crate is wrap pieces of brown pipe cleaners around the top of the beer bottles. Add small twisted pieces of the same brown pipe to look like antlers of the reindeer. At the neck of the beer bottles hot glue googly eyes and red pom poms to make them look almost like a reindeer itself. These Christmas gifts for men with a frosty reindeer twist to their beer is sure to be appreciated and loved. For the beer lover in your life, these Christmas gift ideas for friends are going to be a cute upgrade.
DIY Stamped Leather Tie Pin -
These Christmas gift ideas for friends are apparently the most classy for the handsome fellas out there. To make these lovely Christmas craft gift ideas for your guy friends you just need to cut a small piece of leather based on the size and shape of your tie clip using a craft knife. Next, you need to choose an initial, word, or phrase that you would want to punch onto your tie clip and do so with the help of a metal punch and a hammer. Now glue this piece of leather onto a tie clip such that the personalized message comes front facing. Present these unique pieces as Christmas gifts for men and let their fashion game be just on point.
For More Gift Ideas