"One BSF jawan commits suicide every week!"
So claims Navratan Choudhury, who put in four years of service in the BSF (Border Security Force) in a clerical position between 2012 – 2017.
He goes on to say – "It is unemployed people who commit suicide or people who don't enjoy job security, but why do so many jawans of a paramilitary force that is praised by leaders and the media commit suicide? Is this not something critical for our government, media and people to learn about and question?"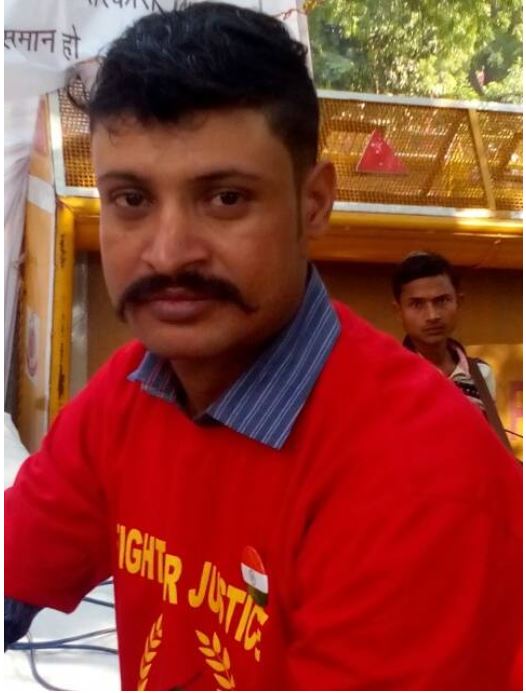 Jai Jawan jai Kisan
(Navratan Choudhary)
He raised this issue at a demonstration in Jantar Mantar, the city's protest, under the newly registered NGO 'Jai Jawan Jai Kisan', initiated by another former CISF jawan Mohd. Jaleel, who also served for 18 years in the force.
The BSF and CISF are not part of the Indian Army that is under the Ministry of Defence, they are part of the Central Armed Police Forces (CAPF) under authority of the Ministry of Home Affairs.
"What the general public associate with soldiers vigilant on the borders, getting injured or dying in internal conflicts with Maosits or Naxals are most often CAPF jawans, so why are they treated differently?" demands Choudhury.
And it is this difference that is very problematic for CAPF jawans. Their pension was stopped in 2004 and they were brought under the National Pension Scheme (NPS). "Our job involves very high levels of tension, tremendous pressure and an earlier retirement age than those in civil jobs, so why don't we get the same benefits as regular army soldiers?" demands Choudhury.
Jaleel and Choudhury are two of the most vociferous voices committed to bringing the abject work conditions of CAPF jawans into public gaze.
(CISF jawan Mohd. Jaleel)
"It is not just about salary and pension, the work environment itself is horrible – corruption is rife," they both contend.
The two of them are embroiled in cases with the CISF and BSF themselves. "We are not just levelling charges, we have evidence for whatever we are saying, so it is just inconvenient for powers that be, and we have both been terminated for groundless reasons."
And there's a litany of cases they want more CAPF jawans to air – "We want our jawans to be proud of their job and be respected by their own seniors, which is very often not the case," they say.
Chaploosi (excessive flattery) to your senior officers is important, who can ask jawans to do anything – from frivolous tasks like, shopping for their families, household chores, taking their dog out for a walk, etc. to ignoring rampant corruption, like in procurement of supplies for the jawans or selling alcohol out to civilians.
"Retribution to any protest is swift – you can be put under campus custody or dismissed from service, even physically beaten up," says Choudhury.
"Our mission is to reach out to all our jawans across the country and say 'please don't commit suicide' because then you become just a number, and the CAPF seniors pass it off as 'domestic disturbance'; we want more of our men to come forward and talk – not to suffer in silence, and we will help in whatever way we can."
They have had some advocates, like Praveen Swarup, to help them in legal redress and they are always looking out for more support.
Renu, a self-employed professional, was part of the demonstration. "Ever since I started to learn about the conditions of our jawans and farmers through meeting with Jaleel Mohammad, I have been really saddened and distressed. If we cannot look after these two important limbs of our society – our jawans and farmers, then we have no future," she says with tears in her eyes.
(Renu, supporter)
DEMANDS FOR CAPF JAWANS:
1. Pension stopped since 2004 to resume
2. CAPF jawans to be bestowed shaheed status
3. Widows of jawans killed on duty to receive full pension
4. Exploitation , unfair practices, servant-like treatment by higher officers to be stopped immediately
5. British laws used for disciplinary actions to be reviewed and changed
6. CAPF jawans extended medical support like regular army personnel
7. CAPF jawans given ex-servicemen status like army personnel
8. All jawans removed from duty due to unfair complaints by higher officers to be reinstated
9. Set-up an independent court to look into grievances of jawans especially against their higher officers
10. Those jawans who were removed from their jobs due to unfair and/or unfounded complaints of higher officers should receive salary of the years / months dismissed from service, which should not be from govt coffers and public money but from the salary of officers who lodged those erroneous complaints.
11. CAPF jawans should be given the 10% canteen facility given to army jawans
12. Educational institutions should keep 10% quota for CAPF families
13. Families of slain CAPF jawans should also be given support like gas agency, petrol pump, etc.
14. It's one country, one constitution, so why CAPF too given same status as army
(Other supporters)
DEMANDS FOR FARMERS:
1. Swaminathan recommendations (2004-2006) to be implemented
2. Electricity bill for irrigation to be waived
3. DAP khad cost increased from Rs. 300 should be brought back
4. Workers employed in khadon factories (quarries) in the private sector should be on the same salary level as government chaprasi
5. All farmers and labourers to receive Rs. 6k pension after 55 years of age
6. Education for technical degrees for children of farmers and soldiers in government and private institutions should cost the same