The state of Rajasthan is the most prevalent and royal state of India. Also, one of the geographically largest states in India. The culture of this state is rich and full of rich values. It has an overwhelming history, deep-set culture, rich heritage, and a traditionally modest dressing style. The folk culture and royal heritage, historical monuments bring in a lot of tourists from all over the world. When you talk about traditional attire, it's highly elegant and old-fashioned.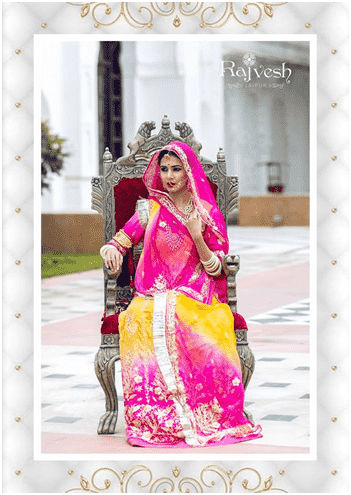 Rajasthan, the state of Royals. Rajputs are known for their exemplary bravery, culture, customs and dressing style. Especially the women's, they have a unique and graceful style of dressing. This ethnic Rajasthani dresses are known as Rajputi Poshaks. This dress code is a one of a kind feature and a regal identity of Rajputi Women.
The Poshak looks picturesque and gives a comprehensive conventional look covering the whole body. The Poshak is available in 4-meter cloth stitched or semi stitched with a Dupatta (Odhani). The Poshak looks highly attractive and alluring when worn with classic Rajasthani jewellery and customary footwear like juttis.
The highlighting feature of this Rajputi Poshakis that it gives reflects the ethnicity of Rajasthani culture and maintains a sense of modesty for the women. Another appealing feature is that it gives a royal look to the women. In Rajasthan, you will find many different types of Poshak in various colours, designs, and works.
There is only one specific way to wear a Poshak and should mimic the way the local Rajasthani women wear it. The colour, patterns, and works may differ but the style of wearing remains the same. The Rajputi Poshak for women makes you stand out in a crowd and makes you the center of attention in any room.