Many of us who grew up watching Doordarshan (DD) as children remember Vinod Dua as an integral part of the channel. In January 2016 he shared with me, in his signature engaging, entertaining style, how it was to work with DD in its heydays. He's gone too early and will be missed as someone (as his daughter says) "always always speaking truth to power"
Not having studied in a fancy English medium school, I was not fluent in English till I got to college in Delhi University. At the time, I used to watch Hindi programmes on DD and thought the presenters looked like jilted lovers sporting long beards and a generally unkempt look. It gave me courage to audition for DD while pursuing my college degree. In the Delhi of the 1970s if you were creative and hungry there were very limited avenues open to you, and DD definitely offered one.
In those days being inducted into DD involved a rigorous process in four stages. First there was a preliminary interview. Mine was taken by the legendary Keerti Jain, who went on to become the Director of the National School of Drama.
I appeared for the interview in a long black kurta over jeans sporting Charminar cigarettes; my hair was long, I had a beard and a lot of attitude. I looked like I had memorised atleast the first 7 pages of Aleksandr Solzhenitsyn's 'Gulag's Archipelago' and had read the Communist Manifesto a few times over (which in those days, by the way, was a minimum prerequisite to romance Miranda House girls!).
Keerti took one look at me and asked, "How did you think you would get through the process?"
"I looked at your presenters and thought I can do better," I retorted. In those days it was okay to be cheeky!
Seventy of us were shortlisted for the camera audition, which weeded out another 50, leaving 20 of us for the third tier process where we underwent trial bookings. Finally, for the campus segment four of us were chosen.
You can tell the prodigious quality of the people by the fact that others included, Arun K Singh, who is now ambassador to the US; Vijaya Laxmi Chhabra, who has been associated with media for a long time, and even served as an interim DG of DD; and the great Odissi dancer, Madhavi Mudgal.
I did all kinds of programs with DD. Each programme paid a princely sum of Rs. 50 – not much even in those days, but it was just the passion and fun of it that kept me going. Keerti Jain said during one of her farewell parties recently that "it was difficult to control Vinod!" and that's how it was then, there was a lot of room for creativity and exploration, and you were supported by outstanding producers and technical staff.
I think those were different times, standards of inducting were tough, excellence was sought after, people with flair, elan and calibre were respected. The colleges and universities also reflected these values. We were taught in college to hone our faculties, to nourish the mind and train your eyes and ears …...
Meeting people face to face was also very much a part of that learning process, we learnt from people and not from computers, like you do nowadays.
The problem with DD today is that nobody's belly is on fire. The jobs of the top bosses are secure, they don't have to justify their sprawl on prime office properties, and their perks are not related to their performance. It is no surprise that DD's viewership continues to deteriorate spectacularly. As a professional I agree that TRP's are certainly not everything, and certainly not about catering to the lowest denominator, but surely they can't be ignored altogether and not matter.
Even in our times sifarish-wale (employees with reference) used to get jobs but it was not at the cost of compromising quality. DD today is spineless, it has no autonomy, it is flabby because its humongous.
I still watch some programs that only DD shows and no other channel does. I watched the complete coverage of Air Force Day celebrations recently for instance. It still has great potential and I hope it will be realised.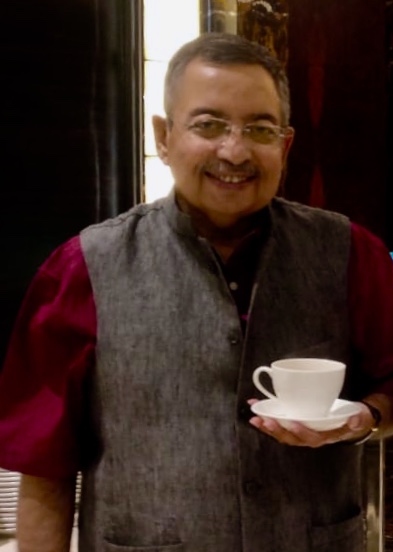 (Pic courtesy Parmeet Kalra)