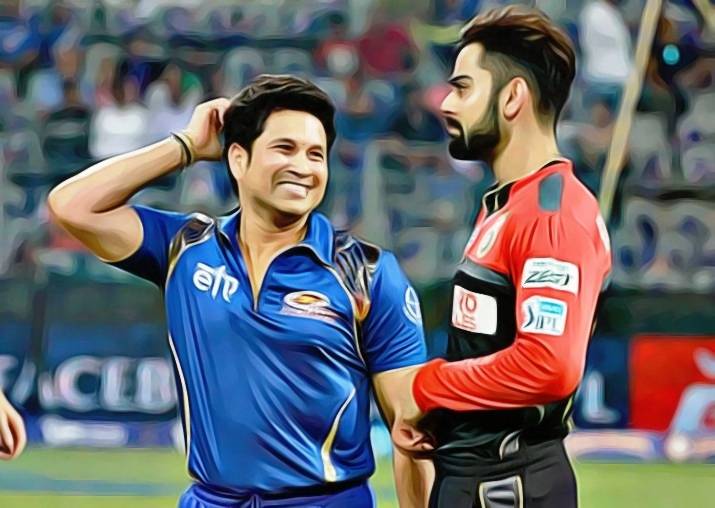 India cricket team captain Virat Kohli has been posting impressive numbers on the live score and breaking records since the beginning of the West Indies tour. The Indian skipper's name is making the headlines of cricket news sites like Betwala. Virat Kohli has the potential to break Sachin Tendulkar's record in the upcoming Test series against the West Indies.
Sachin Tendulkar is one of the greatest batsmen who brings out the most aggressive attacks in every match. Former India cricketer Virender Sehwag remarked that Kohli is the best batsman of this generation and will break most of Tendulkar's records.
'At the moment, Virat is the best batsman. The way he is scoring centuries, the way he is scoring runs, he is the best. I am sure he will break most of Sachin Tendulkar's records',
In the recently concluded third ODI match against the West Indies in Trinidad, Virat Kohli scored his 43rd ODI century. Tendulkar has a record of 49 centuries in 463 ODIs (452 innings). Kohli needs seven centuries and he is capable of achieving the landmark that will add to his name.
Records are being shattered by the players of this generation. Alongside Virat Kohli, someone is catching up. It's no other than Australia's Steve Smith who just shined in the 71st edition of the Ashes. Some say that the Aussie batsman is better but Sehwag doesn't agree.
'Virat Kohli is a much better player than Steve Smith. If you look at Kohli and Smith, Kohli looks much more pleasing to the eyes in comparison with Smith. He is the number one batsman in the world'. Sehwag said.
India is leading 3-0 in the three-match T20I matches. They maintained their stability and improved their performance until the ODI series whereas they won two consecutive matches with one match called off. Kohli earned the Player of the Series award twice and he was adjudged as the Player of the Series.
India and the West Indies are ready for their first Test match that will take place at Sir Vivian Richards Stadium in Antigua. The Test matches form part of the ICC World Test Championship.
'The West Indies team don't have quality players in their side who can give competition to this Indian team. I am sure India will win the two-match Test series 2-0', Sehwag backed the Men in Blue and confident that they will win the series.