With The Kashmir Files being a crowd-pleaser and gaining political backing, various governments have declared the film tax-free, including Haryana, Gujarat, Madhya Pradesh, Goa, Karnataka, Tripura, Uttar Pradesh, and Uttarakhand.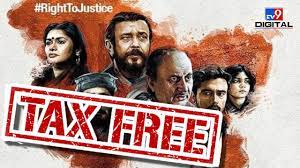 The film is about the departure of Kashmiri Pandits from the Mountain during the early stages of the armed conflict, directed by Vivek Ranjan Agnihotri. It came out on March 11th. Delivering the film tax-free implies that tickets are less expensive and that more people can see it.

When a film engages with a socially relevant and inspirational topic, state governments may occasionally exempt it from taxation in order to make it more accessible to a larger audience.