The term "Bizarre" refers to something strange, unusual in appearance, change in character, odd, etc. This word has came from France dictionary. In other words, it is borrowed from French language. In French, it means odd or strange. Some of the examples of sentences with the word 'Bizarre' are as follows-
The situation is so bizarre.
This game is bizarre among others.
I can not believe we are involved in such a bizarre condition.
Fantasies can not harm you, no matter how bizarre or far out they are.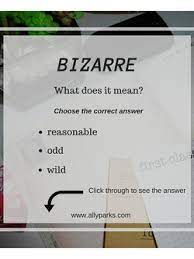 Also Read- What is the meaning of "te amo" ?