Peanut Brittle is a sweet dish made of caramelised sugar, peanuts, butter, and corn syrup. The origin of this sweet dish is from South India. A woman discovered this wonderful and delicious dish accidentally while making a taffy. Peanut brittle is not at all a healthy food. It is a hard sticky brittle which looks very tempting. Well, peanut brittle is usually available in sweet shops or is sold in trains and buses but it can also be prepared at home. You just need to know the recipe and must have all the ingredients available. The recipe is super easy.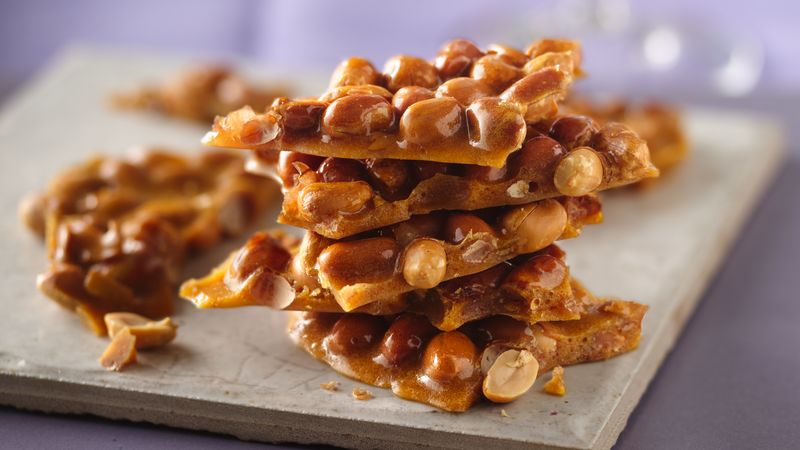 The ingredients needed for the preparation of peanut brittle are as follows:
2 cup sugar

½ cup of corn syrup

11/2 spoon baking soda

2 cup roasted salted peanuts

6 tablespoon unsalted butter

½ cup water

11/2 spoon vanilla
Firstly, you need to take a pan and line it with parchment paper, and keep it aside. Then take a bowl and add roasted peanuts, butter, baking soda, and vanilla according to the given measurements. Then mix it well. In a saucepan or any suitable pan add sugar and water and then, stir it. After some time add the corn syrup to it and cook it on medium flame until it gets boiled. While cooking it, stir it. While stirring, place your candy thermometer at the edge of the pan and wait until it reaches 250o F. Make sure that the thermometer doesn't touch the bottom part of the pan. Then, add peanuts to it and stir it in butter, baking soda, and vanilla. You will notice some changes in the texture of it. Then add this hot mixture to the prepared pan and spread it throughout and then allow it to cool down for 30minutes. Your peanut brittle is then ready and kept in an airtight container.