Unless one has been leaving under a rock for the last three years, it is common knowledge that the feud between Kangana and Hrithik is "probably the dirtiest squabble ever over a love affair gone wrong in Bollywood" as reported by Hindustan times.
It all started with Kangana giving a "silly ex" statement in an interview and Hrithik replying with a retaliatory tweet. What followed next were legal notices, accusations, emails and mental illness that left the crowd wondering whose side of the story is real. Although many celebrities have come out and spoken in favor of Kangana, including Vidya Balan, Hrithik has not seemed so lucky. But on the other hand, many have also accused Kangana for creating this scene to gain more fame and attention (mostly by Hrithik fans). As of now, it is highly debatable as to who is right and who isn't. There isn't even a sure shot way of knowing the complete truth.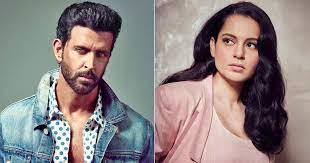 Source:- google
You can further check out the following link which will give you a detailed timeline of what exactly happened. https://timesofindia.indiatimes.com/entertainment/hindi/bollywood/news/Hrithik-Kangana-war-Whos-telling-the-truth/articleshow/51963215.cms
Also Read- Who is Hrithik Roshan?