Creamy Pasta Salad tastes extremely delicious, and somewhat like White Sauce Pasta. Preparing it, however, is not as complicated as White Sauce Pasta.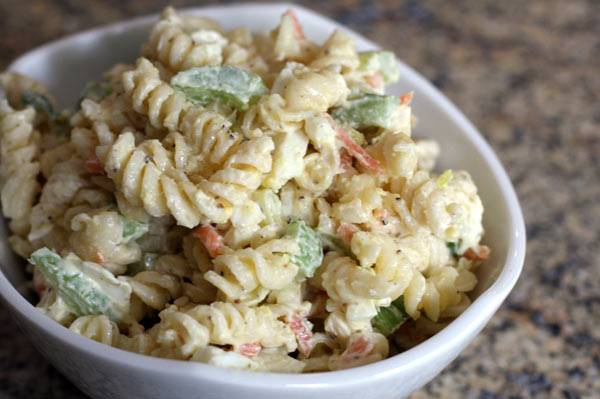 (Courtesy: Classic-Recipes)
Ingredients:
• Twisted Pasta: 100 grams
• Mayonnaise: 200 grams
• Cream: 100 grams
• Tomatoes: 2
• Onions: 2
• Cucumber: 1
• Olives: As much as you like
• Salt: According to taste
Method:
• Dice tomatoes, onions, olives, and cucumber.
• Boil water and add some salt in it. Then add pasta and boil until soft.
• Drain the left out water and let the pasta to cool down.
• Now mix cream and mayonnaise in all the diced veggies and toss thoroughly.
• Add pasta and salt in the veggies and mix well.
• Keep it in the refrigerator to cool.