India is the land of surprises and supernatural things. India has a mixture of landscapes, seas to the mountains, and a plethora of cultures, languages, and rich history.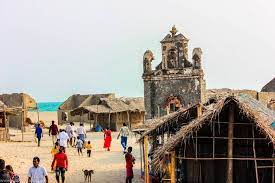 Coming to the question, Dhanushkodi is located in Tamil Nadu at the Rameshwaram district. This place is known for its wonders of nature and man. This place is also very famous for the mystery that surrounds it. But generally, this is easily missed by the regular tourist. This is because it is not an actual part of the tourist map and also this is hard to reach. However, Dhanushkodi is a perfect place for the explorers as they love to visit the unknown. To reach the place, you need to cross Pamban island from the mainland. You can reach there by availing by train to cross the Pamban Bridge.
Now, why is it known as Haunted? The story behind it is very painful, on the 21 st of December of 1964, a disastrous event took place in the port town of Dhanushkodi and swiped the town and many lives. A super cyclone hit Dhanushkodi on the night of 22nd December which changed everything rather changed many lives devastatingly. The waves are said to be up to 20 feet. The cyclone hit The passenger train that left Pamban with 110 passengers and 5 railway staff, the whole train got submerged with all its passengers. That cyclone took over 800 lives in Dhanushkodi and the overall death toll was 1800. Connectivity was not as strong as these days and the Pamban Bridge was the only way to reach Dhanushkodi. Thereby, the small town that was once a famous tourist place was then reduced to ruins. This is the reason why it is known as one of the dreaded villages of India.